International musiccollective
since 1969 and still alive
Embryo
New Album: "Auf Auf" available:
https://www.rappcats.com/embryo/
Download: https://embryoband.bandcamp.com/album/auf-auf
Trailer: https://www.youtube.com/watch?v=F_pF3MNcmxg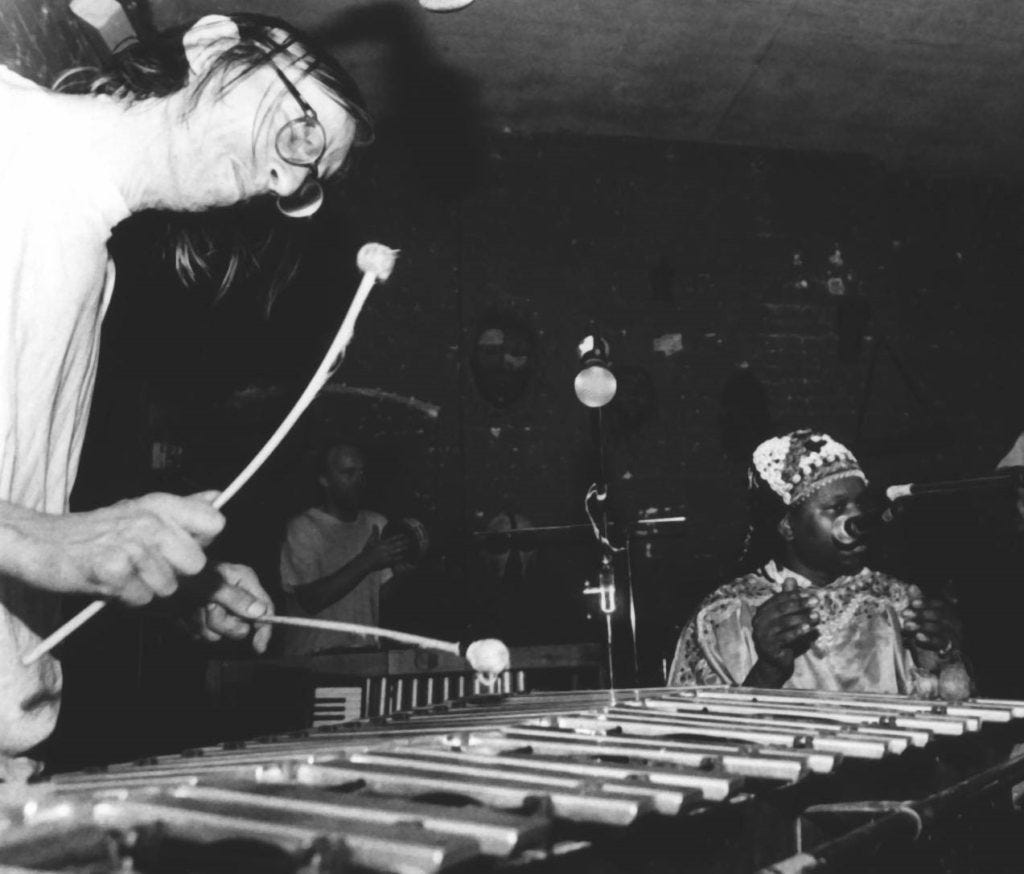 Embryo is
Marja Burchard, Maasl Maier, Sebastian Wolfgruber, Sascha Lüer, Jan Weissenfeldt, Jakob Thun
+
Wolfi Schlick, Jens Pollheide, Lothar Stahl, Roman Bunka, Mohcine Ramdan, Xizhi Nie, Deobrat Mishra, Prashant Mishra, Abdul Samad Habibi (Rubab), Parviz Ayan (Tabla), Didac Ruiz, Dembo Jobarteh - Kora, Abathar Kmash, Niko Schabel, Thomas Gundermann, MIchael Wehmeyer, Mik Quantius and many many others...check also friends/special guests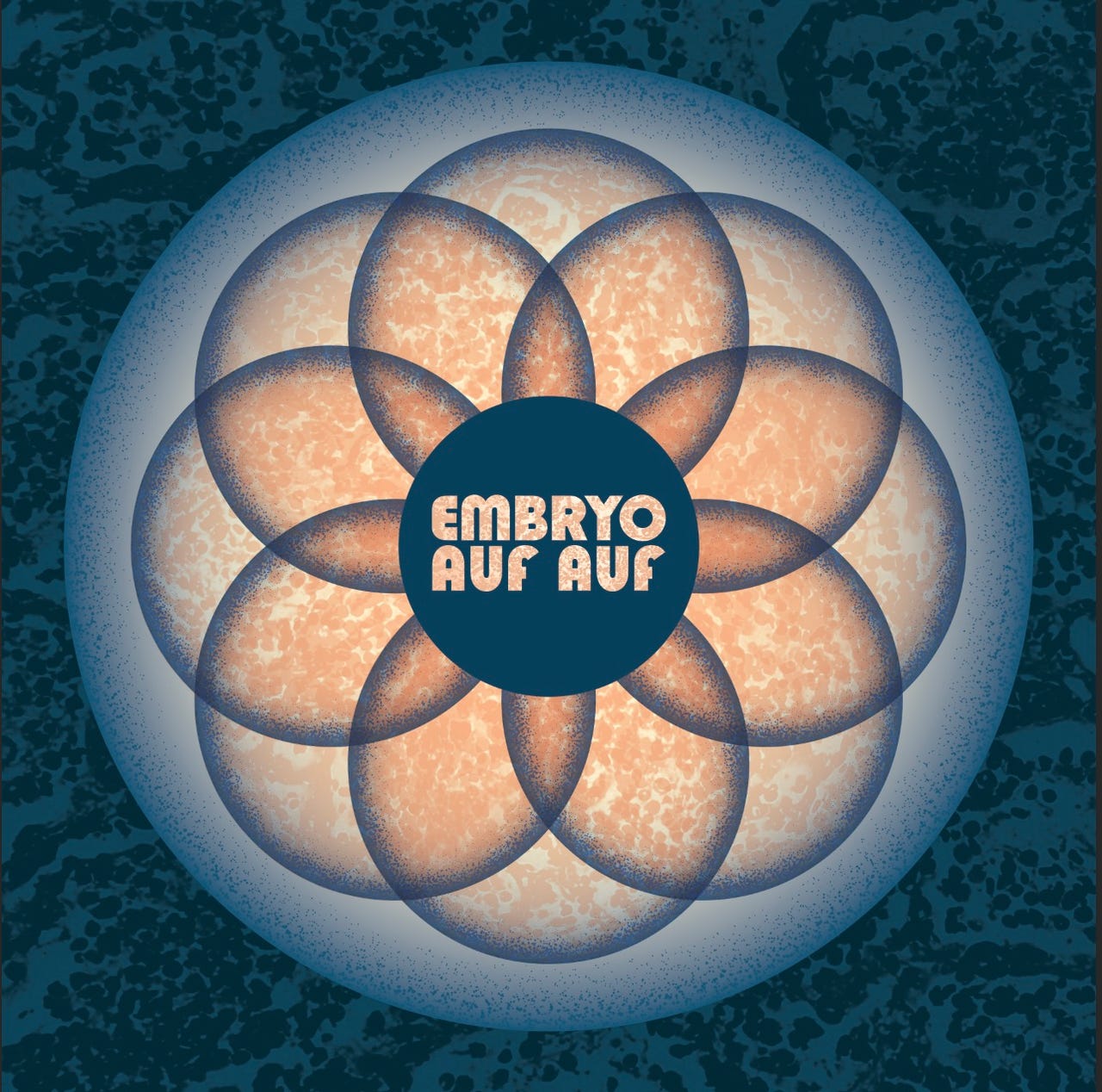 new album "Auf Auf" download and vinyl
The late Christian Burchard, who founded the Embryo ensemble in 1969, loved the slogan Auf Auf, German for Up, Up, or Keep On Going. Anyone with anything more than a passing interest in the German Krautock scene of the 1970s and 1980s knows that Burchard followed that intent, all around the world, tirelessly seeking out new sounds and inspirations and creating a catalog of music unlike most anything else the world has ever heard.
Madlib has often said Embryo is his favorite rock band. Of course the hip-hop-producer-with-the-deepest-musical-knowledge knows Embryo is more than just a rock band – but, for the purposes of these notes, let's keep it simple.
When Marja Burchard, Christan's daughter, who grew up with Embryo and toured with them for years, took the reins of the ensemble after Christian's death in 2018, she started recording what would become this album, over the course of two years, finishing it in the throws of the Covid pandemic in 2020.
She approached Madlib and Egon, who had, years back, visited and jammed with Christian Burchard, and Embryo musicians Uve Mullrich, Roman Bunka and Jan Weissenfeldt, in a Bavarian wine cellar, with the idea to issue Auf Auf on Madlib Invazion.
The reply was a resounding, definitive "yes."
So here is Marja's take on the Embryo ethos, continuing with her father's intrepid style, and leading the band in her own style. Auf Auf ranges from the deep, free-form jazz of "Alphorn Prayer" to modal music from Afghanistan on "Baran" to psychedelic-tinged jazz-rock of the title track
Joining Marja are those like Embryo veterans Bunka, on oud and guitar, and Karl Hector and the Malcouns/Whitefield Brothers/Poets of Rhythm producer and guitarist Jan Weissenfeldt and others, including important players on the global scene from Afghanistan and Morocco.


live behind the green door vinyl & download
As it is the first LP release after the passing of Christian Buchard, the founder and source of Embryo, this record is a milestone for the artists, especially for his daughter Marja Burchard. Each track on this record is taken from the original live streaming session that was recorded back in May 15, 2020 at Import Export, Munich.

Marja Burchard - Vibraphone, Organ,Rhodes,Trombone, Voice, Kalimba
Maasl Maier - Electric Bass, Synthesizer
Sebastian Wolfgruber - Drums, Percussion, Bremstrommel

live at Rochus Kapelle cd & download
This is a Live Recording from Oktober 2018.
It was the first meeting with the Syrian Oud Player Abathar Kmash.
MARJA BURCHARD : Vibraphone, Rhodes, Organ,Trombone, Accordion, Santoor, Voice
ABATHAR KMASH : Oud
MAASL MAIER : Bass, Sopran Sax, Percussion
JAN WEISSENFELDT : Guitar
JAKOB THUN : Drums, Percussion

IT DO vinyl, cd &download
100 years of dada and a half-century of Embryo - Two good reasons for Embryo to celebrate and a perfectly good reason for a new record. "Do It", one of the slogans of the beatniks and hippies of the sixties, has been and still is a statement enormously important to Embryo. Inspired by dada, the group has changed the slogan to "It Do" and has named their new album accordingly. The Embyro collective has been active for almost fifty years, always led by their musical leader and visionary Christian Burchard. That Burchard energy has doubled now, as his daughter Marja, who stood on stage with the group the first time when she was only 11 years old, has now stepped into the spotlight. The multi-instrumentalist lives and breathes the "Do It" concept with the same conviction as her father Christian. On It Do the group for the first time has recorded songs composed by her.